EmsanaRx has been named in the Top 10 Pharmacy Management Solutions Providers for 2022!
We are truly honored to announce that EmsanaRx has been named in Healthcare Tech Outlook Magazine's Top 10 Pharmacy Management Solutions Providers for 2022!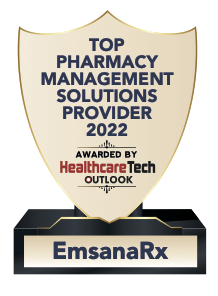 Bringing Integrity and Accountability to PBM Industry
Most companies in the U.S. spend a substantial portion of health care expenditure on pharmacy benefits, so pharmacy benefit management (PBM) organizations were incepted to assist companies in streamlining these benefits. However, most PBMs have cumulatively formed intermediary channels, such as GPOs, that directly engage with manufacturers to push overpriced drugs instead of cost-effective ones and negotiate hefty rebates for their profit. Dissatisfied by unmet medical needs and out-of-control costs, EmsanaRx was launched by the Purchaser Business Group on Health (PBGH) as a public benefit corporation to provide clinically-focused and patient- centric pharmacy benefit solutions that bring integrity, clarity and trust back to the PBM market. With its seasoned management team, the company aims to be the first-of-its-kind PBM established by employers, for employers that ensures cost-efficient and accessible pharmacy benefits.